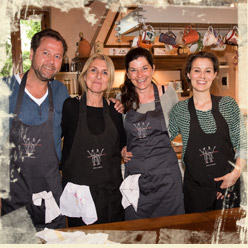 Cooking Classes
Italy is famous throughout the world for its culinary traditions, and Tuscan cooking is without doubt, one of the most important and well-known.
Tuscany is a land rich in flavours and, as well as the celebrated Chianti wine and the extra virgin olive oil , its tasty dishes are part of the Italian enogastronomic patrimony.
At "Le Cetinelle" Simonetta and her friend Kalinka, who is from the area, organise cookery lessons for those who would like to learn some of the secrets of Tuscan cooking. This is a pleasurable experience where they happily share their culinary expertise enabling you to reproduce some of these marellous dishes in your own homes.
Every lesson is personalised according to your particular requests, for example, if you have a particular theme or menus that you would like to prepare.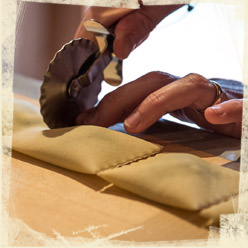 During the lessons you learn to prepare fresh pasta or potato gnocchi with various sauces, second courses of meat or vegetables, side dishes and wonderful Tuscan and Italian desserts.
Only the best quality ingredients for the cookery lessons are used, including fruit and vegetables from Simonetta's own kitchen garden, potatoes cultivated by Luca and olive oil from the farm.
After the lesson the dishes are brought to the table, accompanied by Luca's organic wine, to be enjoyed by everyone who wishes to participate in a merry evening .
The cookery lessons are held for a minimum of 2 people and the cost is 90 euro per person, This includes the final lunch or dinner and the book "The Alphabet of Tuscan Taste" with recipes in Italian and English, written by Kalinka Tondini.
For guests who would just like to participate in the meal the cost is 30 euro per person (15 euros for children under 12).
We are also happy to organise dinners upon request at a cost of 30 euro per person (15 euros for children under 12).
We look forward to welcoming you!!