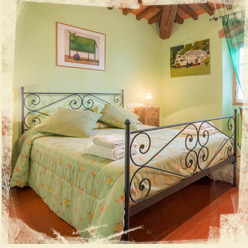 Bed and Breakfast
There are 6 bed and breakfast rooms, each with private bathroom, on the first floor of the main house. Simonetta decorated and furnished each one in keeping with the traditional Tuscan style of exposed wooden beams and terracotta floors.
Also on the first floor is the large dining room with its beautiful fireplace where our guests take their breakfast each morning, and the kitchen which is always accessible.
The rooms are all different colours – lilac, yellow, blue, ivory, green and peach, the last being located in the pigeon loft of the house on the second floor. All the rooms and bathrooms have windows. The peach room has 4 arched windows.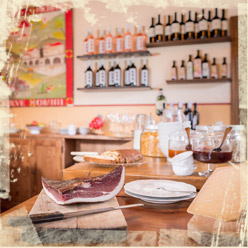 All the soft furnishing are in harmony with the room colours as are the colourful voile curtains. The bathrooms complement the bedrooms and all have showers, apart from the Ivory room which has both a shower and a bathtub.
Simonetta prepares breakfast each morning personally and is served between 8,30 and 10,00 am. The tables are ready laid for the guests who just have to choose from the buffet of bread, biscuits, eggs, cereals, yoghurt, juice in the kitchen .
During the warmer months the guests are welcome to take breakfast outside in the garden at any one of the tables they prefer. The garden has a playground for children and hammocks, seats, tables and loungers for all the guests. There is a pool with panoramic views where you can relax and cool down.
For guests who wish to taste local produce while staying at "Le Cetinelle" they are welcome to use the kitchen to prepare meals which can be taken outside anywhere in the garden, even the poolside where there are tables and chairs situated with views over the fantastic views that characterize Le Cetinelle.